Filtering news by tag xe2.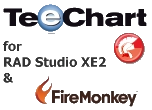 Greetings!
Time we mentioned what we're doing with TeeChart and Embarcadero's RAD Studio XE2!

Steema has been working with the new IDE for some time, preparing both VCL and FireMonkey versions of TeeChart for inclusion in the new programming environment. Agreed versions of RAD Studio XE2 will ship with TeeChart Standard VCL and TeeChart Lite Chart for FireMonkey. Steema are preparing installers for TeeChart Pro that we expect to be ready very soon. We'll be announcing availability of the new installers here; please watch this space. To review the current different versions of TeeChart and how they relate with… […]
---


RAD Studio XE2 World Tour 2011
September 27th in Barcelona
September 28th in Lisboa
September 29th in Madrid
www.danysoft/eventos.com […]
---

A pre-release source code installer has been posted at the client download area adding full RAD Studio, Delphi and C++ Builder XE2 support.
[…]
---
3 news.